Conrado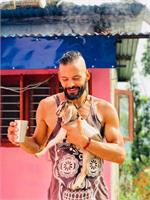 Conrado has been travelling and living in different countries since 2000.
Living in different cultures really opened his mind
In so many different ways...
Discovering how we're all trying to say the same "thing", but getting tangled in languages, cultures, history and other kinds of societal conditioning and conceptions...
Conrado really want to help people find their inner voice and liberated being.
He strongly believe that introspection, creativity, love, and respect are the best tools!
Tools that he has found and is working on developing further.
He loves an active life... where wellness and fitness are a core value.
Be it weight training at the gym or kettlebells, martial arts or calisthenics, Pilates or Yog(a)!
In fewer words: Yoga, Martial Arts, cycling... all speak the same language, all ring the same bell...
He is certified in Hath(a), Astang(a), Pranayam(a) Yog(a)...
He also has extensive practice with Guided and silent meditation as well as Vipassana style meditation!
Philosophy in the Classroom: I'm not a teacher, I merely share knowledge and awareness, insight and wellbeing... the love for the human body in the pursuit of the fulfillment of its possibilities
Conrado instructs the following:
Slow down the pace as Conrado will ease you into the practice with opening up the joints such as the shoulders, neck, hips and knees. The Hatha Style of Yoga, allows you to really explore and feel each pose, feel the rhythm of the breath as it's the only sounds to flow to in this silent practice, allowing you to connect to your inner stillness and peace. At the beginning and end of the practice, we'll incorporate pranayama techniques to cleanse and connect with the breath as well as a short and sweet meditation. Suitable for all levels.