Amelie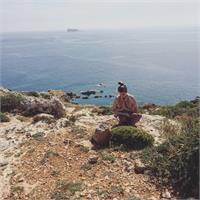 Amélie alias A-Muse Yoga is a Yoga Alliance E-RYT 200 certified teacher. She shares from the alchemy of her own sadhana mainly through bhakti yoga and yin-yang practice.
She also teaches prenatal yoga (she completed her prenatal yoga teacher training with Sharon Bales in Paris). At this precious time in a woman's life, a safe and holistic practice can be extremely helpful for expectant mothers who would like to go into their pregnancies with calmness and gratefulness.
Initially based in Paris, she started working as a yoga teacher in Rabat, Morocco, where there was no yoga. It was the beginning of a « sangha » who is growing and now counts more than 100 students!
In May 2017, she moved to Niamey, Niger and started to build a yoga community.
She moved to Malta in January 2018.
Amelie is currently not instructing any classes.