Niki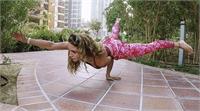 7 years ago, Niki quit her engineering career to pursue her passion for Fitness and Yoga.
Getting to know yoga and being able to create an amazing balance between my physical and mental life has been a great journey.
Yoga is freedom and release and
As a yoga teacher, Niki's intention is to help people achieve this balance and freedom by sharing her passion, guiding them to find their own peace in life.
Niki is currently not instructing any classes.