Liz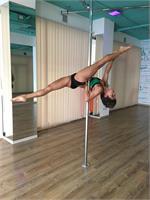 Born and raised in Las Vegas, Liz started doing gymnatics at the age of 7 and went on to win State and Regional Championships throughout her childhood. She discovered Pole Fitness only 3 short years ago, but was immediately hooked as it utilised much of the strength and flexibility she gained through gymnastics but also presented constant new challenges and room to grow. In 2017 she completed the XPERT Pole Fitness Teacher Training in order to share her passion and inspire others to push themselves beyond what they think is possible. Liz is also the mother of an adorable 3 year old and loves finding new fun fitness challenges, including Acroyoga, Aerial Hoop and tumbling.
Liz instructs the following:
A great class open to all levels of pole dance from complete beginner to students able to invert, spin, climb and more. We will focus on technique, strength building, and perfecting individual skills used in pole dance.

PLEASE NOTE

Caution should be taken when holding injury. Always notify your teacher before the class, should you have any old or new injuries.

THE BENEFITS

Commitment free, Strengthen and tone, De-stress, gain mobility & coordination, boost confidence, boost metabolism & libido.

ATTIRE

Shorts are required. Booty shorts with a sports bra is preferable but not required (you will need your upper inner thigh skin to be exposed, and it helps to have your waist/stomach skin exposed as well). Most students dance barefoot.